Message from Dean Wolinsky
Friday, April 9, 2020
Dear Alumni and Friends of our College of Dentistry:
I hope that my message finds you and yours healthy, safe, and secure. I am keenly aware that those of you in active practice are facing unprecedented obstacles and hardships as your office hours have been greatly curtailed or canceled. Please know that your College of Dentistry family and I are thinking of you and wishing you, your families, and your dental staffs the very best.
As you may know, the Texas A&M Health Science Center has taken a leading role in assisting A&M Chancellor John Sharp and numerous State agencies in dealing with the COVID-19 pandemic. The efforts include front-line delivery of care, testing for the coronavirus, rapid research, and providing a high level of compassion and ingenuity.
Faculty, staff, residents, and students across the Texas A&M Health Science Center – including our College of Dentistry – have been working round-the-clock to "flatten the curve" of the epidemic across the State of Texas.  
When I pause for a moment to look at the impact of the Health Science Center through the work being done by colleges of medicine, nursing, pharmacy, dentistry and the School of Public Health… wow, I am so proud. The College of Dentistry is part of this massive response to support the health of the Dallas metropolitan area. I could not be more proud or grateful.
Allow me to share with you how the College of Dentistry is taking a leading role in this systemwide effort:
Urgent/Emergency care: We have a dedicated team of individuals composed of faculty, residents, and staff making themselves available daily since mid-March. Our goal is to minimize the diversion of patients with dental urgencies to hospital emergency rooms to alleviate an unnecessary burden. Dedicated staff triage patients by phone to determine their COVID-19 risk status and to discover whether the dental urgency requires an in-person visit. Patients who are appointed are screened again when they arrive to the College and are offered endodontic therapy and oral and maxillofacial surgery treatment, as needed.
Transition to remote learning: The College of Dentistry deans, department heads, program directors, faculty, and staff have come together to transition our educational curriculum to a remote online learning platform. When students returned to "class" from spring semester break on Monday, March 23, they did so via tele-learning. It was a big lift, and I appreciate the teamwork, ingenuity, and collaboration of our faculty and staff to make sure our students have the tools they need to learn remotely and complete the spring semester.
Commitment to graduating our residents and DDS/DH cohorts: The College is taking every step necessary to ensure that each of our residents, dental students and dental hygiene students completely meet all of the College competencies to graduate from the program. We are receiving guidance from and adhering to the policies of the Commission on Dental Accreditation (CODA), a part of the American Dental Association, and the Texas State Board. We are confident all graduates will be well prepared to enter clinical practice this summer.
A graduation celebration: Although commencements across our university system have been cancelled, we are looking towards a graduation celebration sometime this summer, and our Office of Student Affairs is working with the Student Council and class representatives to make this happen.
Re-opening our clinics: The process of re-opening our postgraduate and pre-doc general dentistry clinics is a fluid one and will take place only when it is deemed safe for us to do so. Unfortunately, this a schedule the virus will determine, not us. When we do receive the OK, we will stagger the opening of the clinics to avoid stressing our infrastructure.
Making information accessible: To provide our faculty, staff, students, and patients with a repository for general, university and College-specific COVID-19 updates and resources, the College has developed dedicated COVID-19 webpages: dentistry.tamu.edu/coronavirus. You may find information there helpful in the days and weeks ahead as well.
As you can see, here at the College, we have been embracing solutions to the challenges created by the coronavirus. What makes our College unique among peer institutions is its unwavering commitment to our core missions of education, research, healthcare, and community engagement. Our vast resources, talent, and dedication will help guide us through these unprecedented times.

Thank you for being there for us – we will continue to be there for you. Look for information soon on ways that you can engage with the College through virtual town halls. We will embrace the technology we have until we can gather again to celebrate the excellence of this great College and your relationship with us.

Stay well!  Stay safe!
Sincerely,



Dean Larry Wolinsky
Message from the Alumni Association President
Dear Alumni Friends:

Without a doubt, we are living through an unprecedented time.  Every day we are placed in situations that would have seemed impossible just a few months ago.  I want you to know that we are in this together.  Our alumni, families and practices are in my thoughts and prayers.  
COVID-19 has altered almost every aspect of our lives.  As we face new challenges, remember that the Texas A&M College of Dentistry Alumni Association is here to support you.  If we can be of service, please do not hesitate to contact us.  You can reach the Alumni Office by emailing Melani Pippins at mppippins@tamu.edu. 
Lean on the endurance that was built as we battled through tough times in school.  We all felt overwhelmed, but we learned to ignore the rising water and take it one day at a time.  We will weather this storm and I look forward to brighter days ahead.  Until then, on behalf of your Board of Directors we wish our alumni health, safety and solidarity.
Take care and be safe,

Chad

Chad Capps, DDS '08 MS '14
President
Texas A&M College of Dentistry Alumni Association

P.S. Be sure to follow the college on social media @tamudental. And keep up with college coronavirus updates atdentistry.tamu.edu/coronavirus. You may find the list of resources on that site helpful as well.
Meet your alumni association officers
Members of the College of Dentistry Alumni Association Board, front row: Ms. Melanie Patterson '20, Mr. Erik Meckel '22, Dr. Rishika Kapoor '14, Dr. Danette McNew '88, back row: Dr. Chad Capps '08, Dr. Anthony Mendez '04, Dr. Julie Stelly '87, Dr. Drew Vanderbrook '12, Mrs. Lana Crawford '68
Not pictured: Dr. George Derrick Pylant IV '20, Ms. Tiffany Bergstrom RDH '14, Dr. Sancerie O'Rourke-Allen '98, Dr. Williams R. Phillips '97, Dr. Crystal Stinson DDS '14, MS '16, Ph.D. '17
Homecoming 2020
Food, Friends and Fun
This year's Homecoming theme, Honor the Past, Celebrating the Present and Building the Future, was reflected on the smiling faces of alumni as they joined in the celebration, reminiscing, sharing stories and creating memories. 
This was the largest turnout for a 50th year dental class anniversary celebration. Congratulations to the Class of 1969. The weekend was filled with numerous activities from the Thursday morning Clinic and Education Building dedication to the fun-filled Friday evening reception, awards presentation, and campus tours. The weekend wrapped up with a Saturday CE course presented by one of our own, Dr. David Grogan. We could not have asked for a better turnout. A great time was had by all!
Thank you to those who joined us. We look forward to welcoming everyone "home" again next year.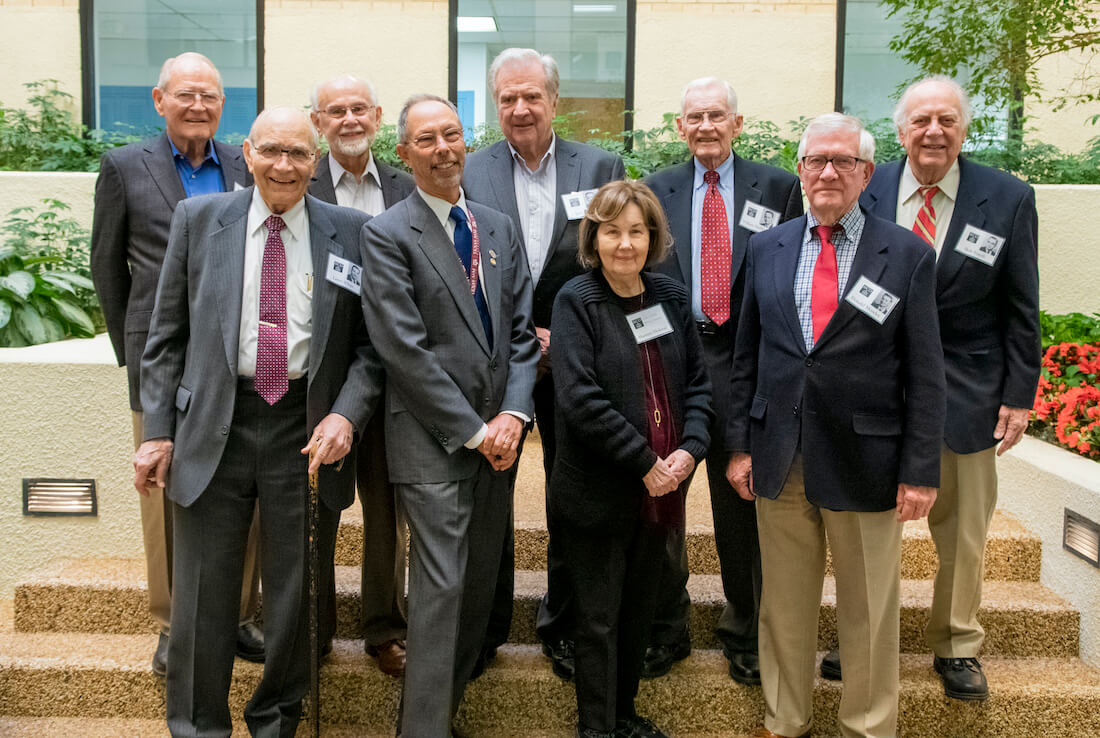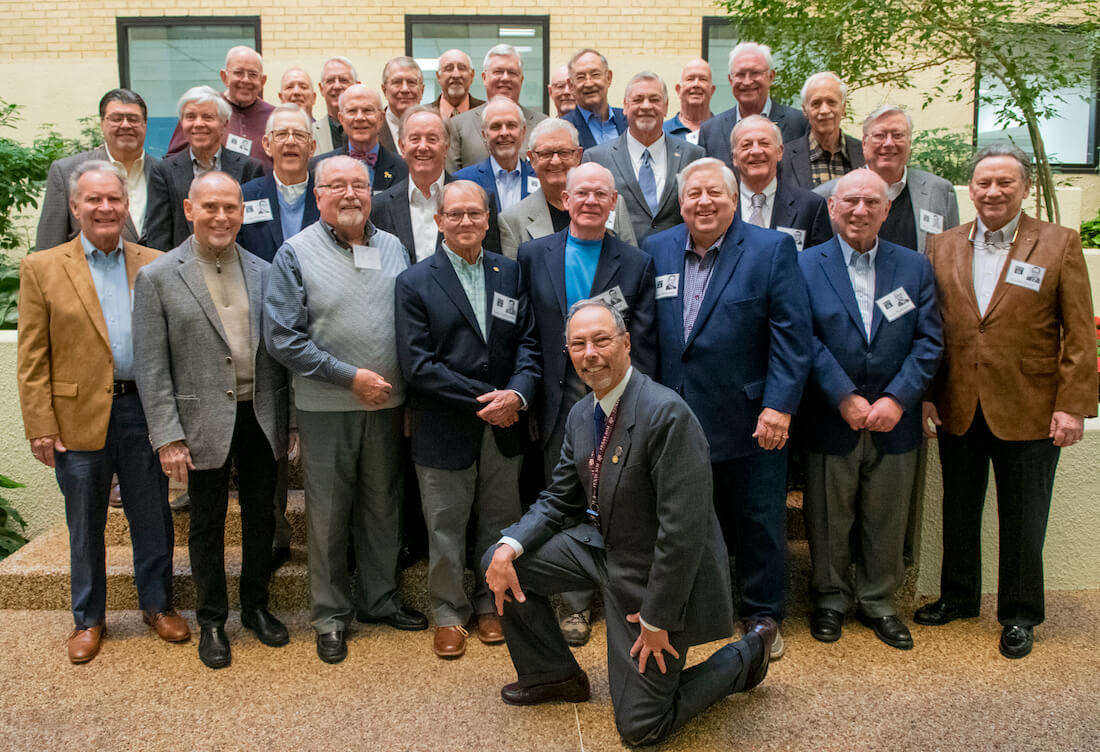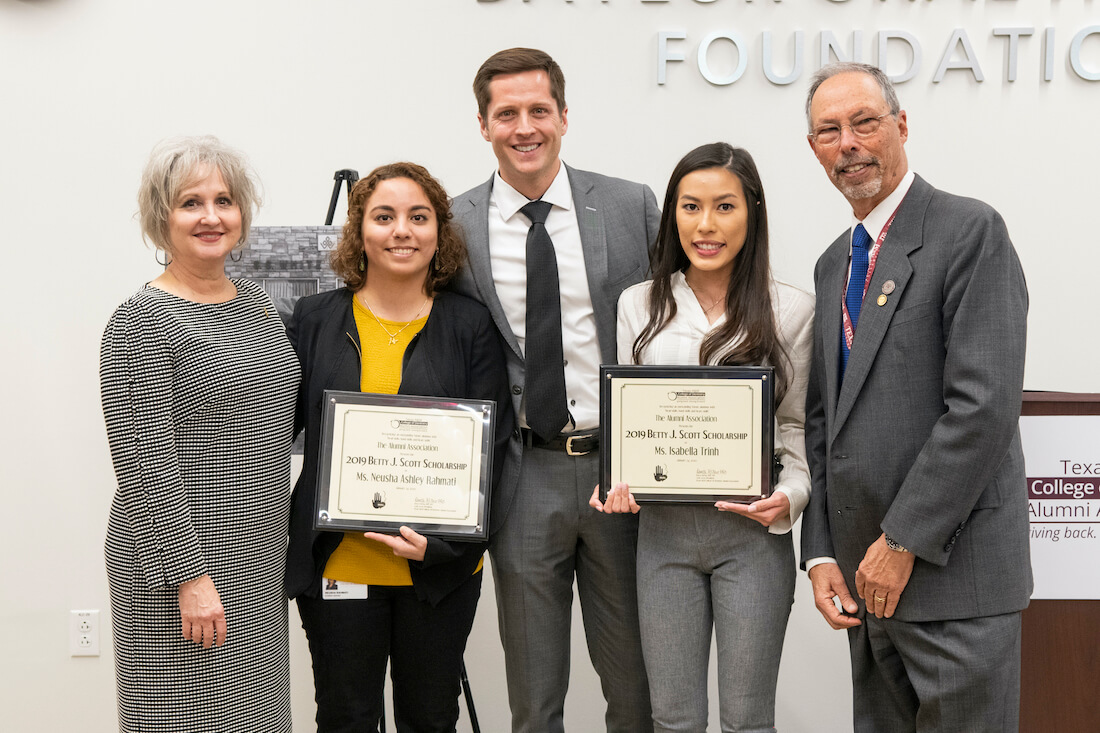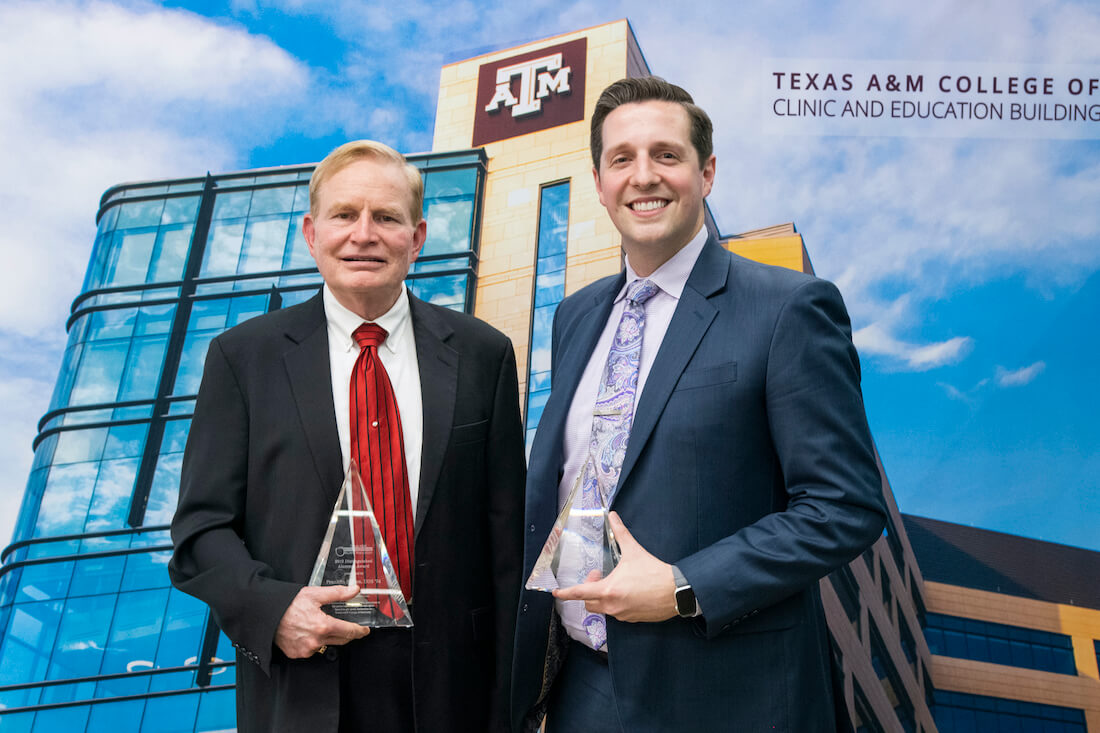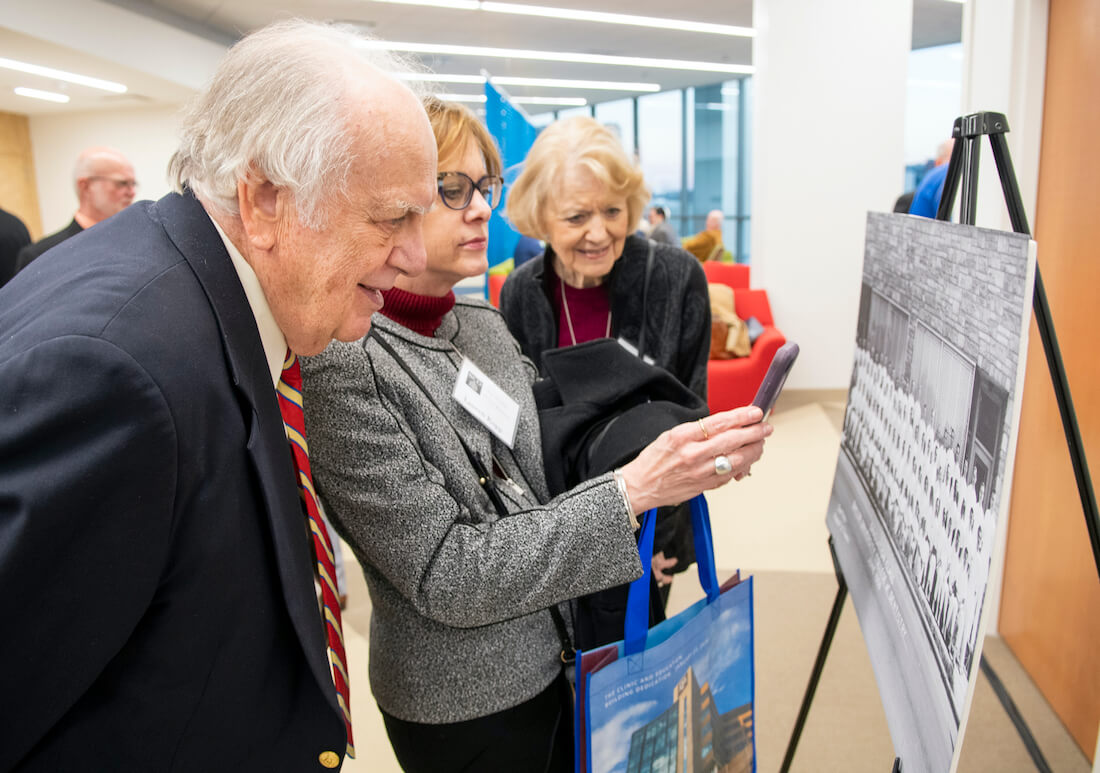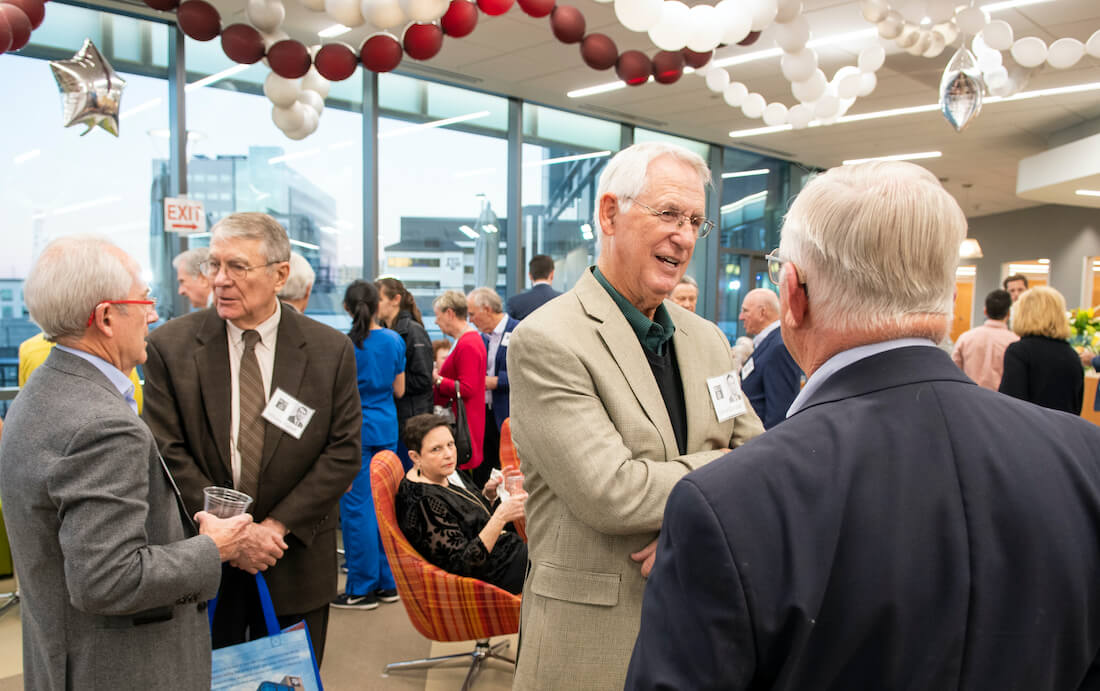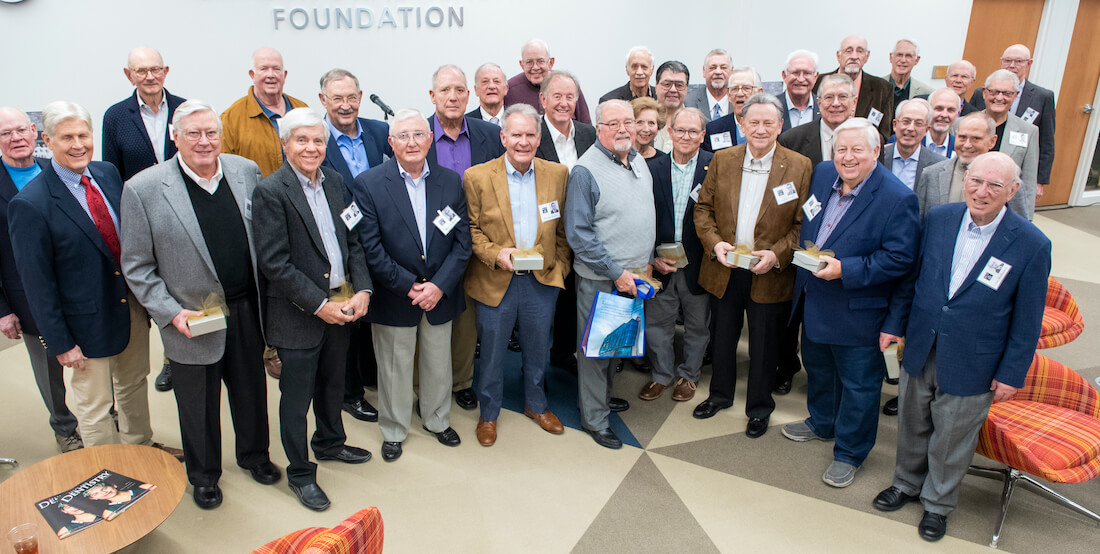 Past Events
Enjoy pics from all our great past events, as well as past copies of Dentistry Insider - the college newsletter -  in the new Events Archive and the News Archive:
Subscribe to our mailings!

Keep up on all the latest news and special announcements from the Alumni Association!
To update your physical mailing address call the Alumni Relations staff at: 214-828-8202, email dentalalumni@tamhsc.edu, or use the Update Membership Information form. 
---
Dentistry Insider
Texas A&M Dentistry Magazine 2019
---
2020
Membership Campaign

Support the Texas A&M University College of Dentistry's Alumni Association with a gift to the Alumni Campaign.
Simply download the Contribution Form 2020, fill it in and send it to us.
Note: Your membership fees are deposited in the Alumni Association account managed by the Baylor Oral Health Foundation (tax exempt 501(c) 3) charitable organization. Because your fees are tax deductible, you will receive a letter from the Foundation for tax purposes.
All the information you need is on the Contribution Form 2020
---