The Office of Technology Development at Texas A&M College of Dentistry was established in 2006 to facilitate technology transfer by working cooperatively with researchers whose work possesses commercialization potential. The office is housed within the College of Dentistry's Office of the Associate Dean for Research and Graduate Studies.
Technology development is driven by applied or translational research and is intended to result in an increase of technology research at the College of Dentistry. Current foci for technology transfer at the college include various aspects of device development and tissue regeneration.
Guiding Principals
Technology is any product with potential for commercialization, or is the product of any activity coming from a commercial entity. Technology development is any activity surrounding these products that results in an increase of research funding for the College of Dentistry and the investigator.
Each investigator should adhere to the fundamental ethical standards of high-quality research.
The technology development process should not be a burden to the investigator.
Technology development should be driven by research that is translational in nature. Investigators should consider the applied nature of their research and the opportunity for the commercialization of their research or technology.
All research is not translational in nature and applicable for commercialization. Some faculty members may decide not to pursue commercialization for their research.
Activities of the Technology Development Office
Educate, motivate and provide incentives for the Researcher/Inventor.
Create an Emerging Technology Advisory Committee (ETAC) to identify technology for possible further development.
Liaise with the Office of Technology Commercialization (OTC) at TAMUS and the Technology Commercialization Committee (TCAC) in the Vice President for Research's Office at the Texas A&M Health Science Center about possible technologies for development.
In conjunction with the OTC and TCAC, assess technologies to determine if they are patentable and/or marketable.
Conduct scientific, industrial and investment evaluations.
Cooperate with outside agencies and companies.
Develop clinical trial protocols for agencies and companies.
Negotiate with agencies and companies to maximize provision of products and financing for product testing.
Interact with the Dallas Greater Chamber, Technology Business Council, BioDFW and similar organizations to advertise the availability of the College of Dentistry and the other TAMHSC components for collaborative enterprises.
Develop relationships with small businesses.

 

Serve as subcontractors on research proposals to test their products.
Employ the small businesses to help with prototype/product development.
Leverage SBIR/STTR funding.
Facilitate proposal development and proposal review for intramural/seed money to accelerate technology development, assessment, and IP protection.
Make business proposals and recommendations to the Associate Dean for Research, TAMCD.
Structure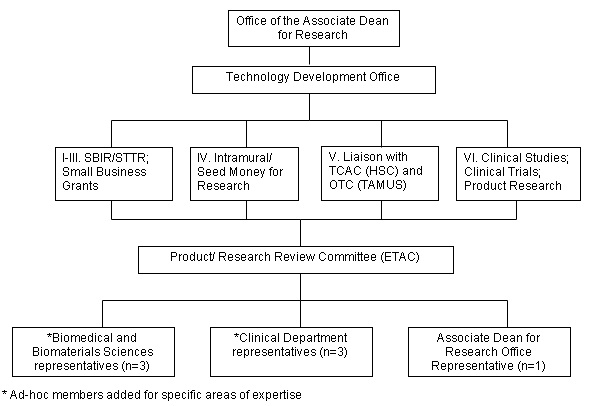 Contact the Office of Technology Development:
Dr. Lynne Opperman
Regents Professor
Director of Technology Development
214-828-8359