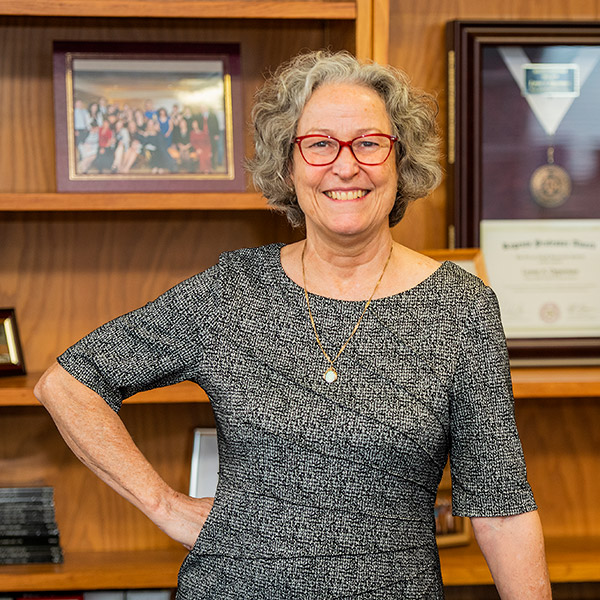 Regents Professor
Director of Technology Development
Contact
Department of Biomedical Sciences
3302 Gaston Ave.
Dallas , TX 75246
lopperman@tamu.edu
Phone: 214.828.8134
Fax: 214.874.4538
ORCID
Google Scholar
ResearchGate

Biography
Education and Post-Graduate Training
Postdoctoral Fellowship, Department of Plastic Surgery, University of Virginia Medical School, Charlottesville, VA (1991-1995)
Postdoctoral Fellowship, Department of Pathology, University of Virginia Medical School, Charlottesville, VA (1980-1990)
Ph.D., Developmental Biology, University of the Witwatersrand, Johannesburg, South Africa (1985)
B.Sc. (Hons), Zoology and Psychology, University of the Witwatersrand, Johannesburg, South Africa (1979)
Career History
Professor, Department of Biomedical Sciences, Texas A&M University College of Dentistry, Dallas, TX (2008-present)
Associate Professor, Department of Biomedical Sciences, Texas A&M University College of Dentistry, Dallas, TX (2004-2008)
Graduate Faculty, Texas A&M Health Science Center Graduate School of Biomedical Sciences, College Station, TX  (2000-present)
Assistant Professor,  Department of Biomedical Sciences,  Texas A&M University College of Dentistry, Dallas, TX  (1997-2004)
Assistant Professor (Research), Department of Plastic Surgery, University of Virginia, Charlottesville, VA  (1995-1996)
Research Officer, MRC Research Unit for Pediatric Mineral Metabolism, Baragwanath Hospital, Soweto, South Africa (1985-1988)
Awards
2016            Regents Professor, Texas A&M University Health Science Center
2016            Honorary Member, Omicron Kappa Upsilon
2010            Fellow, American Association of Anatomists
2005            Basic Science Faculty Research Award, COD, Dallas, TX
2004            Service Excellence Award, COD, Dallas, TX
1992-1995   National Research Service Award, NIDCR/NIH
1982            Van der Horst Embyology Prize, University of the Witwatersrand, Johannesburg, South Africa
Teaching Interests
Teaching responsibilities include:
Prenatal Craniofacial Development, Cell and Molecular Biology of Oral and Craniofacial Tissues, Graduate Student Colloquium (course director), General Histology, and graduate research mentor.
Research Interests
Dr. Opperman's research focuses on understanding the developmental mechanisms regulating craniofacial bone development and growth, and in developing bone substitutes and bone distraction devices.  Dr. Opperman's expanded research program addresses the issues surrounding bone repair, fracture healing and bone augmentation, all major issues related to surgical repair of craniofacial bone anomalies in children, but also relevant to bone repair and bone augmentation procedures required as a result of trauma, or as a necessity for providing optimal dental reconstruction.  Dr. Opperman has an active sponsored research program testing novel dental materials and optimizing implantable dental devices.  She has developed and tested novel bone transport distraction osteogenesis devices and her start-up company holds three U.S. patents for devices pertaining to bone reconstruction.  She has published over 100 peer-reviewed scientific papers and has an h-index of 38.
Dr. Opperman is currently a member of the Association of Anatomy, Cell Biology and Neurobiology Chairpersons Nominations Committee, a site visitor for the Commission on Dental Accreditation, a member of the Biomedical Engineering Society Affiliations Committee, and a member of the Federative International Programme for Anatomical Terminology Orobiology Committee of the International Federation of Anatomical Associations.
Dr. Opperman has served as President of the American Association of Anatomists; President of the Craniofacial Group of the International Association for Dental Research and President of the Biomaterials Interest Group of Dallas-Fort Worth (BIG-DFW).  She is a Fellow of the American Association of Anatomists, and an honorary member of Omicron Kappa Upsilon.  Dr. Opperman is or has served as a member of the editorial boards of Developmental Dynamics, Frontiers in Craniofacial Biology, the Journal of Bone and Mineral Research, Experimental Biology and Medicine, and on the scientific advisory board of the Journal of Endodontics.  In addition to her national and international service commitments, Dr. Opperman has served multiple terms as Speaker and Deputy Speaker of the Texas A&M Health Science Center Faculty Senate.
Grant activity
Principal Investigator:
1993-1995
Individual National Research Service Award F32 DEO5622 (NIH/NIDCR)
1996-2003
First Award R29 DE11978 (NIH/NIDCR)
2003-2004
Small Business STTR Phase I R41 DE15437 (NIH/NIDCR)
2005-2007
Small Business STTR Phase II R42 DE015437-02 (NIH/NIDCR)
2011-2012
REPLICATETM Tooth Preclinical Implant Study Natural Dental Implants, Inc
2012-2013
REPLICATETM Tooth Preclinical Implant Study Natural Dental Implants, Inc.
2015-2017
REPLICATETM Tooth Clinical Implant Study, Natural Dental Implants (Co-PI, Dr. E. Kontogiorgos)
2018-2019
Orthocell Inc., Preclinical testing of a new collagen barrier
Co-Investigator and PI on Subcontracts:
2003-2006
R01 DE15401 (NIH/NIDCR) (PI, Dr. R. Hinton)
2005-2006
Small Business SBIR Phase I R43 DE015893-01 (NIH/NIDCR) (PI, Z. Minevski)
2007-2008
Small Business SBIR Phase I R43 DE017259-01 (NIH/NIDCR) (PI, T. Mulone)
2007-2009
Small Business SBIR Phase II R44 DE015893-01 (NIH/NIDCR) (PI, Z. Minevski)
2009-2010
Small Business SBIR Phase I R43 DE017259-01 (NIH/NIDCR); ARRA Suppl.
2010-2012
R03 DE020119-01 NIDCR (PI, M.D. Benson)
2012-2015
Small Business SBIR Phase II R44 DE020204-01 NIH/NIDCR (PI, C. Primus)
2014-2015
Small Business SBIR Phase II R44 DE020204-01S1 NIH/NIDCR (PI, C. Primus)