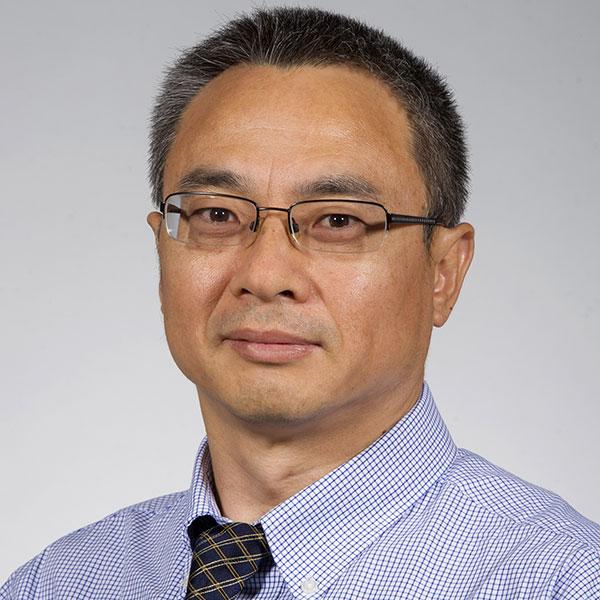 Associate Professor
Contact
Department of Biomedical Sciences
3302 Gaston Ave.
Dallas , TX 75246
ylu@tamu.edu
Phone: 214.828.8277
Fax: 214.874.4538
Google Scholar

Biography
Career History
Associate Professor with tenure, Department of Biomedical Sciences, Texas A&M University College of Dentistry (2018-present)
Assistant Professor (Tenure-track), Department of Biomedical Sciences, Texas A&M University Baylor College of Dentistry (2012-2018)
Assistant Professor (Research), Department of Biomedical Sciences, Baylor College of Dentistry, Texas A&M Health Science Center (2009 -2012)

Instructor, Department of Medical Microbiology, Medical College of Qingdao University, Qingdao, China (1997-1999)
Teaching Interests
Teaching responsibilities include:

Physiology (dental hygiene)
Oral Histology (dental and dental hygiene) 
Cellular and Molecular Biology (graduate)
Research Interests
The long-term goal of Dr. Lu's research is to identify effective and noninvasive therapeutic/preventive agents for clinical management of inheritable dentin disorders. The inheritable dentin disorders are caused by mutations in certain genes, such as dentin matrix protein 1 (DMP1) or dentin sialophosphoprotein (DSPP). To achieve such a goal, we not only need to understand the functions of the normal genes, but also need to know the consequences of a gene mutation. Therefore, all of Dr. Lu's current research focuses on understanding how normal genes control tooth morphogenesis, odontoblast differentiation and dentin formation, and on how a mutation changes the functions of a gene and causes the dentin defects. With these fundamental studies, Dr. Lu expects that one day, we can develop therapeutic agents to prevent the dentin defects from occurring in patients suffering from the inheritable dentin disorders.
Autosomal recessive hypophosphatemic rickets/osteomalacia (ARHR) associated with DMP1 mutations:    DMP1 is largely known as an extracellular non-collagenous matrix protein, highly expressed in odontoblasts in tooth and in osteoblasts/osteocytes in bone. DMP1 mutations in humans result in an inheritable disease, known as autosomal recessive hypophosphatemic rickets/osteomalacia (ARHR), characterized by the dental and skeletal defects (lack of minerals) and hypophosphatemia (lack of phosphate in blood). However, the way in which the loss of DMP1 function causes these defects remains largely unknown. We propose that a nuclear isoform of DMP1 (referred to as "nuDMP1") is translated from an alternative start codon of the same messenger RNA that encodes the secretory DMP1. We further propose that this nuDMP1 is responsible for governing the terminal differentiation of the odontoblasts and osteoblasts whereas the secretory DMP1 participates in extracellular matrix biomineralization. Successful completion of this proposed research will help elucidate the pathogeneses of hypophosphatemic rickets caused by DMP1 mutations in humans, therefore providing guidance for clinical management of hypophosphatemic rickets.
Dentinogenesis Imperfecta (DGI) and Dentin Dysplasia (DD) associated DSPP mutations: DSPP is predominantly expressed in odontoblasts in tooth. It is mainly found as two cleaved products of dentin sialoprotein (DSP) and dentin phosphoprotein (DPP) in the dentin matrix. DSPP mutations in humans may cause various inheritable autosomal dominant dentin disorders, including non-syndromic dentinogenesis imperfecta (DGI) type II and type III and dentin dysplasia (DD) type II. The non-syndromic DGI is the most commonly inherited dentin disorder that affects one in every 6,000 to 8,000 people. While significant progress has been made in understanding how normal DSPP protein regulates dentin biomineralization, it is largely unknown how various mutant DSPP proteins cause the dentin disorders. We are currently using both in vitro approaches and animal models to investigate how various DSPP mutations cause the dentin defects. These studies will have the potential to develop new, noninvasive and preventive agents for treating the DGI/DD patients associated with DSPP mutations.
Recent Grants 
Dentin sialophosphoprotein (DSPP) and Unfolded Protein Response (UPR) in Dentino-genesis Imperfecta (DGI) and Odontoblast Differentiation. NIH/NIDCR R01DE027345; 07/3/-05/31/2023(PI) https://dentistryinsider.tamhsc.edu/understanding-genetic-dental-diseases/
 Identification and Function of nuDMP1 in Odontoblast Differentiation. NIH/NIDCR R01DE023365; 04/01/2013-03/31/2019 (PI)
Studies of the Roles of Twist1 and E12 in Tooth Morphogenesis.  NIH/NIDCR R03DE0217773; 09/05/2011-08/31/2014 (PI)
Selected Publications
Zhang H, Xie X, Liu P, Liang T, Lu Y, Qin C. Transgenic expression of dentin phosphoprotein (DPP) partially rescued the dentin defects of DSPP-null mice. PLoS One. 2018 Apr 19;13(4):e0195854. PMID: 29672573
Lu Y, Kamel-El Sayed SA, Wang K, Tiede-Lewis LM, Grillo MA, Veno PA, Dusevich V, Phillips CL, Bonewald LF, Dallas SL. Live Imaging of Type I Collagen Assembly Dynamics in Osteoblasts Stably Expressing GFP and mCherry-Tagged Collagen Constructs. J Bone Miner Res. 2018 Jun;33(6):1166-1182. PMID: 29461659
Liu C, Zhang H, Jani P, Wang X, Lu Y, Li N, Xiao J, Qin C. FAM20C regulates osteoblast behaviors and intracellular signaling pathways in a cell-autonomous manner. J Cell Physiol. 2018 Apr;233(4):3476-3486. PMID: 28926103
Liu P, Ma S, Zhang H, Liu C, Lu Y, Chen L, Qin C. Specific ablation of mouse Fam20C in cells expressing type I collagen leads to skeletal defects and hypophosphatemia. Sci Rep. 2017 Jun 15;7(1):3590. PMID: 28620244
Zhang H, Jani P, Liang T, Lu Y, Qin C. Inactivation of bone morphogenetic protein 1 (Bmp1) and tolloid-like 1 (Tll1) in cells expressing type I collagen leads to dental and periodontal defects in mice. Journal of molecular histology. 2017 Apr;48(2):83-98. PMID: 28000152
Zhang H, Liu P, Wang S, Liu C, Jani P, Lu Y, Qin C. Transgenic expression of dentin phosphoprotein inhibits skeletal development. European journal of histochemistry. 2016 Mar 11;60(1):2587. PMCID: PMC4800252
Jani PH, Gibson MP, Liu C, Zhang H, Wang X, Lu Y, Qin C. Transgenic expression of Dspp partially rescued the long bone defects of Dmp1-null mice. Matrix biology. 2016; 52-54:95-112. PMCID: PMC4875789
Xie X, Liu C, Zhang H, Jani PH, Lu Y, Wang X, Zhang B, Qin C. Abrogation of epithelial BMP2 and BMP4 causes Amelogenesis Imperfecta by reducing MMP20 and KLK4 expression. Scientific reports. 2016 May 5;6:25364. PMCID: PMC4857113
Liang T, Meng T, Wang S, Qin C, and Lu Y. The LPV motif is essential for the efficient export of secretory DMP1 from the endoplasmic reticulum. Journal of cellular physiology. 2016 Jul;231(7):1468-75. PMCID: PMC4801704
Meng T, Huang Y, Wang S, Zhang H, Dechow PC, Wang X, Qin C, Shi B, D'Souza RN, Lu Y. Twist1 is Essential for Tooth Morphogenesis and Odontoblast Differentiation. The Journal of biological chemistry. 2015 Dec 4;290(49):29593-602. PMCID: PMC4705958
Liu C, Wang X, Zhang H, Xie X, Liu P, Liu Y, Jani PH, Lu Y, Chen S, Qin C. Immortalized mouse floxed Fam20c dental papillar mesenchymal and osteoblast cell lines retain their primary characteristics. Journal of cellular physiology. 2015 Nov;230(11):2581-7. PMCID: PMC5004989
Kamel-ElSayed SA, Tiede-Lewis LM, Lu Y, Veno PA, Dallas SL. Novel approaches for two and three dimensional multiplexed imaging of osteocytes. Bone. 2015 Jul;76:129-40. PMCID: PMC4591054
Huang Y, Meng T, Wang S, Zhang H, Mues G, Qin C, Feng JQ, D'Souza RN, Lu Y. Twist1- and Twist2-haploinsufficiency results in reduced bone formation. PLoS One. 2014 Jun 27;9(6):e99331. PMCID: PMC4074031
Lin SX, Zhang Q, Zhang H, Yan K, Ward L, Lu YB, Feng JQ. Nucleus-targeted Dmp1 transgene fails to rescue dental defects in Dmp1 null mice. International journal of oral science. 2014 Sep;6(3):133-41. PMCID: PMC4170153
Lin S, Zhang Q, Cao Z, Lu Y, Zhang H, Yan K, Liu Y, Mckee MD, Qin C, Chen Z, Feng JQ. Constitutive nuclear expression of dentin matrix protein 1 fails to rescue the Dmp1-null phenotype. The Journal of biological chemistry. 2014 Aug 1;289(31):21533-43. PMCID: PMC4118114
Gibson MP, Jani P, Wang X, Lu Y, Qin C. Overexpressing the NH2-terminal fragment of dentin sialophosphoprotein (DSPP) aggravates the periodontal defects in Dspp knockout mice. Journal of oral biosciences. 2014 Nov 1;56(4):143-148. PMCID: PMC4224573
Wang X, Jung J, Liu Y, Yuan B, Lu Y, Feng JQ, Qin C. The specific role of FAM20C in amelogenesis. Journal of Dental Research. Journal of dental research. 2013 Nov; 92(11):995-9. PMCID: PMC3797537
Mammoto T, Jiang E, Jiang A, Lu Y, Juan AM, Chen J, Mammoto A. Twist1 Controls Lung Vascular Permeability and Endotoxin-induced Pulmonary Edema by Altering Tie2 Expression. PLoS One. 2013 Sep 2;8(9):e73407. PMCID: PMC3759405
Huang Y, Lu Y, Mues G, Wang S, Bonds J, D'Souza R. Functional evaluation of a novel tooth agenesis-associated bone morphogenetic protein 4 prodomain mutation. European journal of oral sciences. 2013 Aug;121(4):313-8. PMCID: PMC3711029
Gibson MP, Liu Q, Zhu Q, Lu Y, Jani P, Wang X, Liu Y, Paine ML, Snead ML, Feng JQ, Qin C. Role of the NH2 -terminal fragment of dentin sialophosphoprotein in dentinogenesis. European journal of oral sciences. 2013 Apr;121(2):76-85. PMCID: PMC3602929
Gibson MP, Zhu Q, Wang S, Liu Q, Liu Y, Wang X, Yuan B, Ruest LB, Feng JQ, D'Souza RN, Qin C, Lu Y. The rescue of dentin matrix protein 1 (DMP1)-deficient tooth defects by the transgenic expression of dentin sialophosphoprotein (DSPP) indicates that DSPP is a downstream effector molecule of DMP1 in dentinogenesis. Journal of biological chemistry. 2013 Mar 8;288(10):7204-14. PMCID: PMC3591629
Zhu Q, Gibson MP, Liu Q, Liu Y, Lu Y, Wang X, Feng JQ, Qin C. Proteolytic processing of Dentin Sialophosphoprotein (DSPP) is essential to dentinogenesis. The Journal of biological chemistry. 2012 Aug 31;287(36):30426-35. PMCID: PMC3436292
Wang X, Wang S, Lu Y, Gibson MP, Liu Y, Yuan B, Feng JQ, Qin C. FAM20C plays an essential role in the formation of murine teeth. The Journal of biological chemistry. 2012 Oct 19;287(43):35934-42. PMCID: PMC3476261
Wang X, Wang S, Li C, Gao T, Liu Y, Rangiani A, Sun Y, Hao J, George A, Lu Y, Groppe J, Yuan B, Feng JQ, Qin C. Inactivation of a novel FGF23 regulator, FAM20C, leads to hypophosphatemic rickets in mice. PLoS genetics. 2012;8(5):e1002708. PMCID: PMC3355082
Siyam A, Wang S, Qin C, Mues G, Stevens R, D'Souza RN, Lu Y. Nuclear localization of DMP1 proteins suggests a role in intracellular signaling. Biochemical and biophysical research communications. 2012 Aug 3;424(3):641-6. PMCID: PMC3412887
Lu Y, Li Y, Cavender AC, Wang S, Mansukhani A, D'Souza RN. Molecular studies on the roles of Runx2 and Twist1 in regulating FGF signaling. Developmental dynamics. 2012 Nov;241(11):1708-15. PMCID: PMC4153435
Zhu Q, Prasad M, Kong H, Lu Y, Sun Y, Wang X, Yamoah A, Feng JQ, Qin C. Partial blocking of mouse DSPP processing by substitution of Gly(451)-Asp(452) bond suggests the presence of secondary cleavage site(s). Connective tissue research. 2012;53(4):307-12. PMCID: PMC3676176
Rangiani A, Cao Z, Sun Y, Lu Y, Gao T, Yuan B, Rodgers A, Qin C, Kuro OM, Feng JQ. Protective Roles of DMP1 in High Phosphate Homeostasis. PLoS One. 2012;7(8):e42329. PMCID: PMC3411740
Zhang R, Lu Y, Ye L, Yuan B, Yu S, Qin C, Xie Y, Gao T, Drezner MK, Bonewal LF, Feng JQ. Unique roles of phosphorus in endochondral bone formation and osteocyte maturation. Journal of bone and mineral research : the official journal of the American Society for Bone and Mineral Research. 2011;26(5):1047-56. PMCID: PMC3179305
Sun Y, Lu Y, Chen L, Gao T, D'Souza R, Feng JQ, Qin C. DMP1 processing is essential to dentin and jaw formation. Journal of dental research. 2011;90(5):619-24. PMCID: PMC3077457
Lu Y, Yuan B, Qin C, Cao Z, Xie Y, Dallas SL, McKee MD, Drezner MK, Bonewald LF, Feng JQ. The biological function of DMP-1 in osteocyte maturation is mediated by its 57-kDa C-terminal fragment. Journal of bone and mineral research : the official journal of the American Society for Bone and Mineral Research. 2011;26(2):331-40. PMCID: PMC3179348
Li Y, Lu Y, Maciejewska I, Galler KM, Cavender A, D'Souza RN. TWIST1 promotes the odontoblast-like differentiation of dental stem cells. Advances in dental research. 2011;23(3):280-4. PMCID: PMC3144037
Lu Y, Feng JQ. FGF23 in skeletal modeling and remodeling. Current osteoporosis reports. 2011;9(2):103-8. PMCID: PMC3268056
Sun Y, Lu Y, Chen S, Prasad M, Wang X, Zhu Q, Zhang J, Ball H, Feng J, Butler WT, Qin C. Key proteolytic cleavage site and full-length form of DSPP. Journal of dental research. 2010;89(5):498-503. PMCID: PMC2873034
Lv K, Huang H, Lu Y, Qin C, Li Z, Feng JQ. Circling behavior developed in Dmp1 null mice is due to bone defects in the vestibular apparatus. International journal of biological sciences. 2010;6(6):537-45. PMCID: PMC2945924
Jiang B, Cao Z, Lu Y, Janik C, Lauziere S, Xie Y, Poliard A, Qin C, Ward LM, Feng JQ. DMP1 C-terminal mutant mice recapture the human ARHR tooth phenotype. Journal of bone and mineral research : the official journal of the American Society for Bone and Mineral Research. 2010;25(10):2155-64. PMCID: PMC3153318
Peng T, Huang B, Sun Y, Lu Y, Bonewald L, Chen S, Butler WT, Feng JQ, D'Souza RN, Qin C. Blocking of proteolytic processing and deletion of glycosaminoglycan side chain of mouse DMP1 by substituting critical amino acid residues. Cells Tissues Organs. 2009;189(1-4):192-7. PMCID: PMC2666981
Lu Y, Qin C, Xie Y, Bonewald LF, Feng JQ. Studies of the DMP1 57-kDa functional domain both in vivo and in vitro. Cells Tissues Organs. 2009;189(1-4):175-85. PMCID: PMC2667139
Huang B, Maciejewska I, Sun Y, Peng T, Qin D, Lu Y, Bonewald L, Butler WT, Feng JQ, Qin C. Identification of full-length dentin matrix protein 1 in dentin and bone. Calcified tissue international. 2008;82(5):401-10. PMCID: PMC2666980
Lu Y, Ye L, Yu S, Zhang S, Xie Y, McKee MD, Li YC, Kong J, Eick JD, Dallas SL, Feng JQ. Rescue of odontogenesis in Dmp1-deficient mice by targeted re-expression of DMP1 reveals roles for DMP1 in early odontogenesis and dentin apposition in vivo. Developmental biology. 2007;303(1):191-201. PMCID: PMC2059935
Lu Y, Liu S, Xie Y, Yu S, Quarles L, Bonewald LF, Feng JQ. Use of the transgenic approach to determine the role of DMP1 in phosphate regulation. Journal of musculoskeletal & neuronal interactions. 2007;7(4):309. PMID: 18094487
Lu Y, Xie Y, Zhang S, Dusevich V, Bonewald LF, Feng JQ. DMP1-targeted Cre expression in odontoblasts and osteocytes. Journal of dental research. 2007;86(4):320-5. PMID: 17384025
Zhang K, Barragan-Adjemian C, Ye L, Kotha S, Dallas M, Lu Y, Zhao S, Harris M, Harris SE, Feng JQ, Bonewald LF. E11/gp38 selective expression in osteocytes: regulation by mechanical strain and role in dendrite elongation. Molecular and cellular biology. 2006;26(12):4539-52. PMCID: PMC1489126
Feng JQ, Ward LM, Liu S, Lu Y, Xie Y, Yuan B, Yu X, Rauch F, Davis SI, Zhang S, Rios H, Drezner MK, Quarles LD, Bonewald LF, White KE. Loss of DMP1 causes rickets and osteomalacia and identifies a role for osteocytes in mineral metabolism. Nature genetics. 2006;38(11):1310-5. PMCID: PMC1839871
Yang W, Lu Y, Kalajzic I, Guo D, Harris MA, Gluhak-Heinrich J, Kotha SE, Bonewald LF, Feng JQ, Rowe DW, Turner CH, Robling AG, Harris S. Dentin matrix protein 1 gene cis-regulation: use in osteocytes to characterize local responses to mechanical loading in vitro and in vivo. The Journal of biological chemistry. 2005;280(21):20680-90. PMID: 15728181
Lu Y, Zhang S, Xie Y, Pi Y, Feng JQ. Differential regulation of dentin matrix protein 1 expression during odontogenesis. Cells Tissues Organs. 2005;181(3-4):241-7. PMID: 16612089
Ling Y, Rios HF, Myers ER, Lu Y, Feng JQ, Boskey AL. DMP1 depletion decreases bone mineralization in vivo: an FTIR imaging analysis. Journal of bone and mineral research. 2005;20(12):2169-77. PMCID: PMC1456072
Ye L, MacDougall M, Zhang S, Xie Y, Zhang J, Li Z, Lu Y, Mishina Y, Feng JQ. Deletion of dentin matrix protein-1 leads to a partial failure of maturation of predentin into dentin, hypomineralization, and expanded cavities of pulp and root canal during postnatal tooth development. The Journal of biological chemistry. 2004;279(18):19141-8. PMID: 14966118
Feng JQ, Huang H, Lu Y (co-first author), Ye L, Xie Y, Tsutsui TW, Kunieda T, Castranio T, Scott G, Bonewald LB, Mishina Y. The Dentin matrix protein 1 (Dmp1) is specifically expressed in mineralized, but not soft, tissues during development. Journal of dental research. 2003;82(10):776-80. PMID: 14514755
Zhang J, Tan X, Contag CH, Lu Y, Guo D, Harris SE, Feng JQ. Dissection of promoter control modules that direct Bmp4 expression in the epithelium-derived components of hair follicles. Biochemical and biophysical research communications. 2002;293(5):1412-9. PMID: 12054672
Feng JQ, Zhang J, Tan X, Lu Y, Guo D, Harris SE. Identification of cis-DNA regions controlling Bmp4 expression during tooth morphogenesis in vivo. Journal of dental research. 2002;81(1):6-10. PMID: 11820370
Fen JQ, Zhang J, Dallas SL, Lu Y, Chen S, Tan X, Owen M, Harris SE, MacDougall M. Dentin matrix protein 1, a target molecule for Cbfa1 in bone, is a unique bone marker gene. J Bone Miner Res. 2002;17(10):1822-31. PMID: 12369786
National Service/Recognition
2016-Present Councilor, International Association for Dental Research (IADR/American Association for Dental Research (AADR) Mineralized Tissue Group
2011 Recipient of John Haddad Young Investigator Award, AIMM/ASBMR (Advances in Mineral Metabolism and the American Society for Bone and Mineral Research), Snowmass, Colorado, USA
2007 Recipient of New Investigator Awards, 9th International Conference on the Chemistry and Biology of Mineralized Tissues, Austin, Texas, USA
2006 Recipient of Young Investigator Award, 28th American Society for Bone and Mineral Research (ASBMR) Annual Meeting, Philadelphia, Pennsylvania, USA
2005 Recipient of Webster Jee Young Investiagor Award, American Society for Bone and Mineral Research - International Chinese Hard Tissue Society (ASBMR- ICHTS)
Education and Training
University of Missouri-Kansas City, Kansas, USA, Postdoctoral Fellowship, Department of Oral Biology, School of Dentistry, 2007-2008
University of Missouri-Kansas City, Kansas, USA, Ph.D., Department of Oral Biology, School of Dentistry, 2007
University of Missouri-Kansas City, Kansas, USA, Postdoctoral Fellowship, Department of Oral Biology, School of Dentistry, 1999-2002
Qingdao Medical College, Qingdao, China, M.S., Department of Medical Microbiology, 1997
Qingdao Medical College, Qingdao, China, M.D., 1994