OLP News

THE INTERNATIONAL ORAL LICHEN PLANUS SUPPORT GROUP: DECEMBER 2020, NEWSLETTER
TIPS AND MANAGEMENT PEARLS FOR THOSE LIVING WITH LICHEN PLANUS.

Thank you all for the kind comments that we have received during this past year! We have tried to offer educational and emotional support to those who deal with any chronic disease states and specifically oral lichen planus. 2020 has been a most difficult year for all of us and we look forward to 2021 with the possibility of a vaccine. Hopefully, it will be a more normal type of world next year.

Some changes have occurred during this year and because of the virus, limited patient treatment, and more virtual meetings instead of our usual face-to-face meetings. As a result, we were unable to offer any webcasts this year. However, we asked some of our dental supporters, past guests and colleagues to offer some tips/advice on oral lichen planus that we have included in our newsletter. The newsletter will also be posted on our site.

Dr. Jacqueline M. Plemons has become the director of the stomatology clinic at the dental school. Dr. Celeste Abraham is also a faculty within the clinic and continues to offer her expertise as well. As you know, the stomatology center has one of the largest concentrations of patients who have been diagnosed with lichen planus. We are all part of the Department of Periodontics with our department chair, Dr. Thomas Diekwisch. We do plan to have some webcasts during 2021.

Dr. Terry Rees will still be affiliated with the IOLPSG and offer his expertise to our group. We are always available to assist you in finding treatment and also happy to answer any of your questions. Please do not hesitate to contact us at any time.

The International Oral Lichen Planus Support Group is part of "Outreach" and we are a non-profit organization. If you consider any donations in the near future, please think of the IOLPSG. There is a link leading to donations on our front web page. The entire donation assists us in providing the webcasts, newsletters and continuation of our "outreach" application. The IOLPSG is affiliated with NORD, the AAOM, the NIDCR (Patient Advocacy Council) and the AADR.

Please enjoy the newsletter with some specific tips for you. We wish you the best of 2021 and enjoyment with your family and friends over the holidays.

Dr. Nancy W. Burkhart
nancy.burkhart@tamu.edu 
Dr. Terry Rees Honored
The Oral Lichen Planus Support Group's own Dr. Terry Rees has been honored by Texas A&M College of Dentistry with an endowed chair.
Well over 8,000 patients have benefited from the specialized care of the college's Stomatology Center, of which Rees is a founder. "We deliver potentially life-saving diagnoses and procedures for patients and want to be sure that continues," says Rees.
Read more about our Dr. Rees in the College of Dentistry's newsletter, Dentistry Insider.
---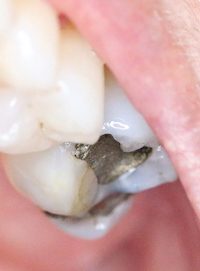 Our Dr. Nancy Burkhart discusses a trend among patients who have been diagnosed with lichen planus. Many patients want to know if removing dental amalgams will assist in improvements with oral lichen planus or their general health.
Read the full article from Vol. 38, Issue 2 at the RDH website. RDH the national magazine for dental hygiene professionals.
- Image of amalagam by Carol Perkins, RDh, BA
---
Drs. Rees and Burkhart are the 2017 award winners - recipients of the International Pemphigus and Pemphigoid Foundation Dental Professional of the Year Award.
---
Lichen planus, which affects less than two percent of the general population, is an uncomfortable and chronic condition characterized by lesions that affect the skin and mucous membranes.
International experts weigh in on the effectiveness of treatments for lichen planus during Texas A&M College of Dentistry's International Oral Lichen Planus Support Group webcasts, which are hosted by Dr. Terry Rees, professor of periodontics and director of the College of Dentistry Stomatology Center, and Dr. Nancy Burkhart, adjunct professor of periodontics.
Lichen planus sufferers and their families can join the discussions. Check back for future webcasts and recordings.
---
Goals for the Support Group
To serve as a resource for patients, family members and practitioners

To address concerns and to offer emotional support individually as well as through a group effort

To serve as a central resource by providing accurate, current information

To promote significant research efforts

To serve as a referral system world-wide for other university based dental schools and facilities that are knowledgeable in the treatment of oral lichen planus
---
OLP Information & Live Discussions
We will be having periodic discussion room dates which will be listed on the page as they are scheduled. Additionally we will publish new information on oral lichen planus as well as other health-related materials. Please check this page periodically for new dates and new educational materials.
We hope that you find this resource beneficial. Please continue to make suggestions to us and let us know how we can meet your needs.
Please feel free to participate with us in this online process, as well as with others interested in this important topic, by emailing questions or comments to Dr. Nancy W. Burkhart.
Dr Nancy W. Burkhart is an adjunct professor in the Department of Periodontics. She is co-founder of the support group and has been a faculty member since 1997. You can reach her through her faculty email: nancy.burkhart@tamu.edu
Join Our Email list:
Keep up on all the latest news and special announcements from the OLP group!
JOIN HERE or click the "Join Our Email LIst" on navigation menu on any page on the site.
NOTE: Click the button, then be sure to select "Direct My Gift" and choose Oral Lichen Planus Fund.
Thank you for your gift!
---
Philosophy of The Support Group
The Oral Lichen Planus web site began in 1997 with the formation of the site and an email address for Dr. Burkhart to correspond with patients and practitioners. Since that time, we have added other features to enhance the site and we have increased our discussion sessions.
The philosophy of the site is to provide educational materials and individual support to patients with the disorder through a self-help concept. The individual patient is perceived as a member of the larger group that comprises the worldwide oral lichen planus patient population.
Purpose of the Web site
The educational material provided on the site is intended to assist the patient, family members and the practitioner in obtaining correct information regarding oral lichen planus. The information provided on the IOLPSG is designed to support, not replace, the relationship that exists between a patient/site visitor and his/her physician.
Confidentiality:
All material received on our web site is treated as confidential and is not shared with any third parties. Only those directly involved with the web site have access to the e-mails, addresses or any other personal information. Both Dr. Terry Rees and/or Dr. Nancy Burkhart review and answer e-mails directly.
In the event that an e-mail is shared with another party, such as a healthcare provider, permission is first obtained from the person who contacts us. Information in the form of e-mails and surveys are moved into separate files and treated confidentially.
Advertising Policy:
The IOLPSG is a non-profit organization and we do not operate through advertising or promotion of any specific products. Any products that are recommended are based solely on proven data of the success of the product and its use in the treatment of oral lichen planus. Our recommendations are subject to change based on new research and on new products that may become available or those that may assist more fully in treatment. We do not accept advertising or sponsorship of any dental products in exchange for advertising or promotion of a particular product.