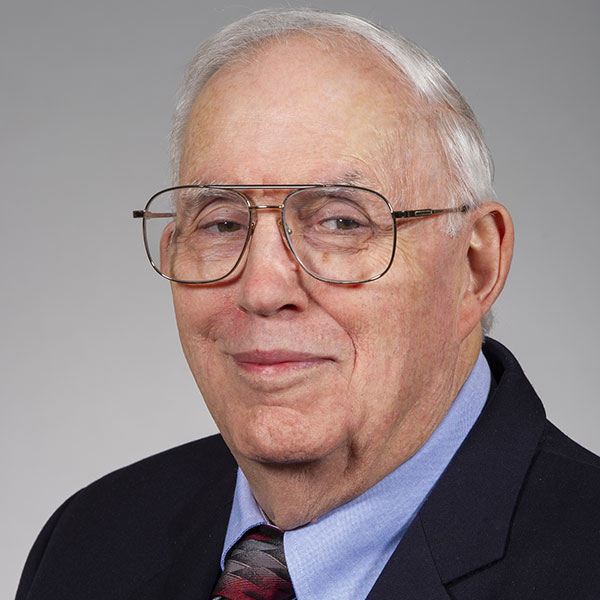 Adjunct Associate Professor
Contact
Department of Biomedical Sciences
3302 Gaston Ave.
Dallas , TX 75246
joseph-t-newman@tamu.edu
Phone: 214.828.8260
Fax: 214.874.4538

Biography
Education and Post-Graduate Training
Postdoctoral Fellowship, Department of Microbiology, University of Texas Health Science Center, San Antonio, TX; 1972-1974
Ph.D., Microbiology, University of Texas Health Science Center, San Antonio, TX; 1969-1973
M.S., Bacteriology, University of Connecticut, Storrs, CT; 1962-1966
A.B., Biology, St. Michael's College, Winooski, VT; 1958-1962
Career History
Director Flow Cytometry, Medfusion/Quest Diagnostics, Lewisville, TX 75067 (2017-2019)
Technical Director Flow Cytometry, Medfusion, Lewisville, TX 75067 (2011-2017)
Associate Director of Virology, Department of Pathology, Baylor University Medical Center, Dallas, TX (1990-2000)
Acting Director of Virology, Department of Pathology, Baylor University Medical Center, Dallas, TX (1982-1989)
Associate Director of Immunology, Department of Pathology, Baylor University Medical Center, Dallas, TX (1975-2011)
Microbiologist-Immunologist, Department of Pathology, Baylor University Medical Center, Dallas, TX (1974-1982)
Postdoctoral Fellowship, Department of Microbiology, University of Texas Health Science Center, San Antonio (1972-1974)
Teaching Assistant, Department of Microbiology, University of Texas Health Science Center, San Antonio (1970-1972)
Biologist, Meloy Laboratory, Springfield, VA (1967-1969)
Bacteriologist, Department of Agricultural Engineering, University of Connecticut, Storrs, Ct (1965-1966)
Teaching Interests
Microbiology (Immunology/Virology – dental and graduate students)
Selected Publications
Fernandes, M.S., Gomes, E.M.,Butcher, L.D., Hernandez-Alcoceba, R., Chang, J., Kansopon, J., Newman, J., Stone, M.J. & Tong, A.W. Growth inhibition of human multiple myeloma cells by an oncolytic adenovirus carrying the CD40 ligand (CD40L) transgene. Clin Cancer Res 15:4847-56, 2009.

Chu, X., Newman, J., Park, B., Nares, S., Ordonez, G., Iacopino, A.M.  In vitro alteration of macrophage phenotype and function by serum lipids.  Cell Tissue Res 296:331-337, 1999.

Phillips, S.D., Newman, J.T., Stone, M.J. Crystalloid cytoplasmic inclusions in myeloma marrow.  Photograph. Blood 94:913, 1999. 

Stone, S.A., Lennette, E.T., Newman, J.T., Burfoot, A., Stone, M.J.  Serologic prevalence of antibody to human herpes virus type 8 in patients with various monoclonal gammopathies.  Leukemia and Lymphoma 37:197-203, 2000.

Levy, M.F., Crippin, F., Sutton, S., Netto, G., McCormack, J., Curial, T., Goldstein, R.M., Newman, J.T., Gonwa, T.A., Banchereau, J., Diamond, L.E., Byrne, G., Logan, J., Klintmalm, G.B.  Liver allotransplantation after extracorporeal hepatic support with transgenic (hCD55/CD59) porcine livers.  Transplantation 69:272-280, 2000.

Levine, D.F., Witherspoon, D.E., Gutmann, J.L., Nunn, M.E., Newman, J.T., Iacopino, A.M.  The effect of FIV infection on CD4+ and CD8+ counts in periradicular lesions.  Int Endod J 34(8): 586-593, 2001.

Stone, M.J., McElroy, Y.G., Pestronk, A., Reynolds, J.L., Newman, J.T., Tong, A.W. Human monoclonal macroglobulins with antibody activity.  Seminars in Oncology 30:318-324, 2003.

Konduri K., Sahota S.S., Babbage G., Tong, A.W., Kumar, P., Newman, J.T., Stone, M.J.  Immonoglobulin M myeloma: Evaluation of molecular features and cytokine expression.  Clin lymphoma 5(4): 285-289, 2005.